Friday Sept. 26, 2014 6:30PM
"Dinner and Music at Foodies"
live music, cuisine, wines and beers
with
vocalist-musicians
Tom and Mary Kay Aufrance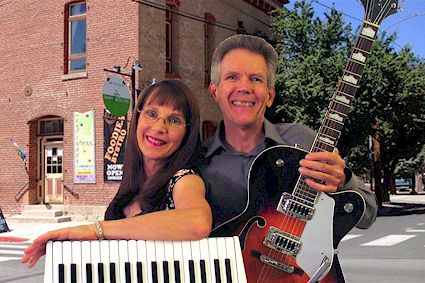 Foodies Bystro is located inside the Brewery Arts Center
449 W. King St.
Carson City, NV
(775) 720-8011
(Advance dinner reservations are recommended but not required.)
Serving chef prepared cuisine, wines and beers, this unique restaurant is surrounded by local artwork.
The Aufrances are local musicians whose selections for "Dinner and Music at Foodies" traverse time and space, taking restaurant patrons on a delectable musical journey from Hollywood Blues to California Beach Boys to The Eagles to Tango. They feature duo vocals, electric guitar, euro accordion and mandolin. "We are introducing a delightfully eclectic program of music fitting to the delicious worldwide cuisine, wines and beers served at Foodies Bystro," says singer and accordionist Mary Kay Aufrance.
Other events at Foodies Bystro include "High Tea" and "Exotic Spices & Sauces Cooking Classes." Foodies menu includes vegetarian options. Well traveled chefs at Foodies cultivate worldwide cuisine using daily specials in addition to offering daily comfort foods. Foodies daily menu includes a selection of sandwiches such as egg salad, tuna salad, panini's, turkey, ham, roast beef, a selection of salads including a special Foodies Bystro salad and freshly made potato salad, lentil salad or macaroni salad on various days. Foodies Bystro is the only establishment in the western United states that promotes a Vegan Cooking class with spices and a dedicated VEGAN menu.
More information about Foodies Bystro and "Dinner and Music at Foodies" -
Yelp reviews and information about Foodies Bystro.
At the bookstore & Seattle's Best Coffee Shop...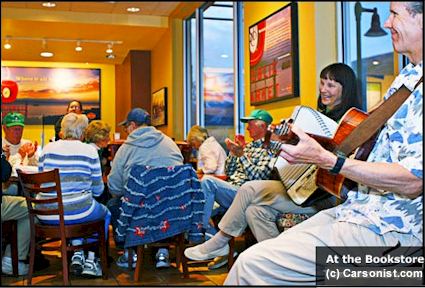 Playing for the Urban Farm Fest Contra Dance...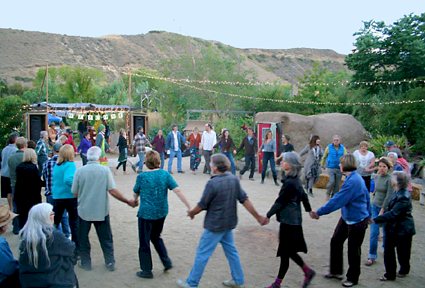 Our show at the Brewery Arts Center Carson City NV USA
Mary Kay's Go Ask the Rain from Musical Dreams.
Such a beautiful song sung by an equally beautiful voice!
--Espie Estrella, About.com