We would love to bring our music to your...
Shows for Seniors
Parties & Receptions
Weddings
Coffee Shop & Theatre Concerts
License our music for
TV, Radio, Movies and Presentations
Specialty Acts...

Slim and Minnie bring beautiful harmonies and homespun humor to the stage. This show is an eclectic mix of acoustic music of favorite cowboy and Americana songs, popular and folk music covers and dance tunes and originals. Folks of all musical preferences and all ages find themselves joyfully transported into a timeless musical groove whenever Slim and Minnie perform!

Whether it's recreating the fun of being in an Irish pub - leading familiar singalongs - or on the festival trail, we can bring the many facets of Celtic music to your audience. The name Gáirín comes from the Gaelic word for JOY (or table margarine depending on which Irish-to-English translation you wish to believe!)
A Celtic Connection
Speaking of chuckles. Quail is a familiar sight as it clucks and chuckes its way around. Here's the Celtic connection. That funny little bird was first catalogued and named by a real old time Celtic cowboy whose roots included Scots-Irish and Welsh American. He was the adventurer and naturalist William Gambel, who was came Out West with other early explorers in 1842.
Singing Motown at Foodies Bystro...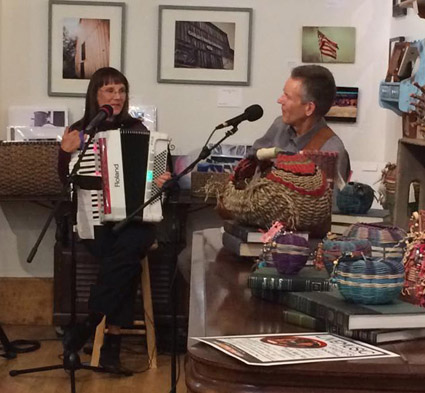 At the bookstore & Seattle's Best Coffee Shop...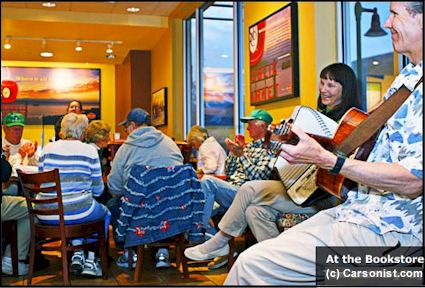 Playing for the Urban Farm Fest Contra Dance...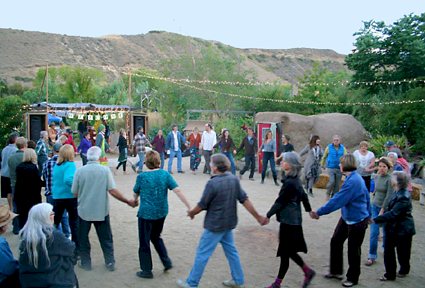 Were you at Red's 395 for our St. Patrick's Day Show?
You may be in Dana's Video!...
Our show at the Brewery Arts Center Carson City NV USA
Mary Kay's Go Ask the Rain from Musical Dreams.
Such a beautiful song sung by an equally beautiful voice!
--Espie Estrella, About.com

Stasera Dorme Il Leone The Lion Sleeps Tonight