Tom and Mary Kay are two entertaining musicians who bring events and coffee shops to life with music.
The images at the top of this page show Tom and Mary Kay performing for the Reno Artown Festival, Red's 395 Restaurant in Carson City, NV, Genoa 4th of July before the Reno Philharmonic, and the General Electric Company Picnic. Their music engages audiences at parties & receptions. weddings, restaurants and coffee shops, festivals and fairs, theatre stages, libraries, contra dances and assisted living facilities.
Each show is uniquely suited to the occasion. This is why at the county fair, you may hear them singing David Bowie's Space Oddity one minute and then You Are My Sunshine the next! These are good long time musicians who know how to entertain your entire audience, not just one slice of musical taste.
Special programs for :
Popular Songs
Dylan to Motown to Country Blues
Contra Dances and Irish Music
Interactive Music Shows for Seniors
St Patrick's Day Pub Sing Along Show
Historic Music Programs
Festival Stage Shows
Song Selections
We are always adding more songs and tunes! Here are a bunch of them.
Popular Folk Music
Just some of the popular music our audiences enjoy:From Just My Imagination, and Dream Dream Dream to Ring of Fire and Amarillo by Morning, Sloop John B and other Beach Boys, music by the Eagles, The Band, The Temptations, David Bowie, James Taylor, Linda Ronstadt, Ike and Tina, The Byrds, Cascades, Johnny Cash, Michael Martin Murphy, Bob Wills and The Texas Playboys, Roy Rogers and Dale Evans, The Everly Brothers, Emmylou Harris and more familiar favorites.
We feature vocal duets: the Eagles' Seven Bridges Road - Ghost Riders in the Sky - Emmylou's hits - The Night They Drove Old Dixie Down by the Band and Joan Baez - Bob Wills' San Antonio Rose - Johnny Bond's Blues Don't Mean A Thing, Ike and Tina's Think It's Gonna Workout and more familiar Americana music favorites.
Our most popular sing-alongs range from You Are My Sunshine to Space Oddity and El Paso. When it's Night Time In Nevada - Pony Boy - Home on the Range - I Ride An Old Paint - You Ain't Goin Nowhere - Sentimental Journey - Tennessee Waltz - Little Brown Jug - Oh! California - This song is REALLY BIG in California! - Yellow Rose of Texas - Red River Valley - Shenandoah - Somewhere Over the Rainbow - Let Me Call You Sweetheart - Juanita Spanish Ballad - Celita Let Your Heart Win.
Historic favorites: Beautiful Dreamer - Aura Lea (Elvis' Love Me Tender) - Gentle Annie - Hard Times Come Again No More.
Tunes you will recognize Old Joe Clark - Soldiers Joy - Country Waltz - Wait For The Wagon - Golden Slippers - Seneca Square Dance - Garry Owen - Rakes Of Mallow - Saddle The Pony - Off To California - Swallowtail Jig - Whiskey Before Breakfast - Red Haired Boy (The Little Beggarman) - Hills Of Connemara - Ryan's Polka - All The Pretty Little Horses - Mary Kay's Polka - Ashokan Farewell - Rosin The Bow - Bonnie Blue Flag.
Special St. Patrick's Day Show
Wear the Green and enjoy everybody's favorite pub songs, ballads and tunes: Black Velvet Band - The Wearin' O' The Green - Tell Me Ma - Whiskey in the Jar - Whiskey Before Breakfast (Red Haired Boy) - Beidh Aonach Amarach (Irish Gaelic) - Down by The Salley Gardens - Bridget O'Malley - Si Do Mhamo I - Danny Boy - Wild Rover - Sorry the Day I Was Married - Haste to the Wedding - The Galway Races - The Road to Lisdonvarna - Mo Ghile Mear in Irish Gaelic - Queen of All Argyle - Ramblin' Irishman - The Jug of Punch - The Parting Glass - Rose of Tralee - Foggy Dew - Rakes of Mallow - Boys of Bluehill - Poor Irish Stranger - Too-ra-loo-ra-loo-ra - When Irish Eyes Are Smiling - My Wild Irish Rose - Gallant Murray - Wa Wadna Fecht for Charlie - Mr. Potato Head - Whisky in the Jar - The Minstrel Boy - No More We'll Go A Rovin' - Morrison's Jig - Cockles and Mussels (Molly Malone) - Mairi's Wedding - Old Dun Cow - Patrick Street - The Ploughman - Rocky Road to Dublin - Rose of Tralee - Christmas in Killarney - Dough Buys Beer - plus tunes tunes tunes!
Celtic Music and Magic Festival Show
Featuring mystical and folkie Irish, Scottish, Welsh festival and Renaissance music.
All your festival favorites, including harmonies in Gaelic and lively tunes -- with a wee bit o' magic thrown in to the delight of all!
You can find more photos of us at festivals and fairs on our gallery page.


Entertaining the Society of Scottish Clans.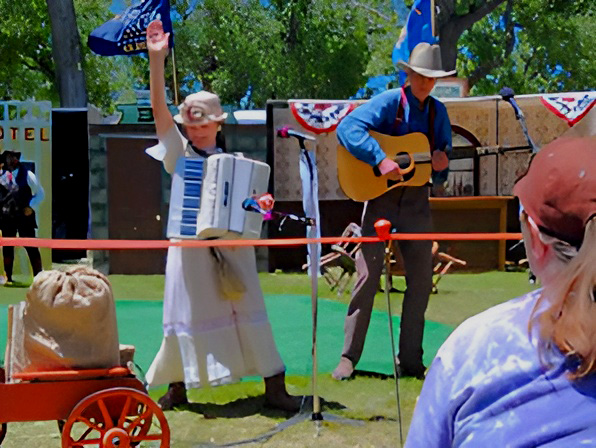 Our fair show: Slim & Minnie. A sound system is in the burlap bag on our Minnie Wagon. It gives us flexibility for your event.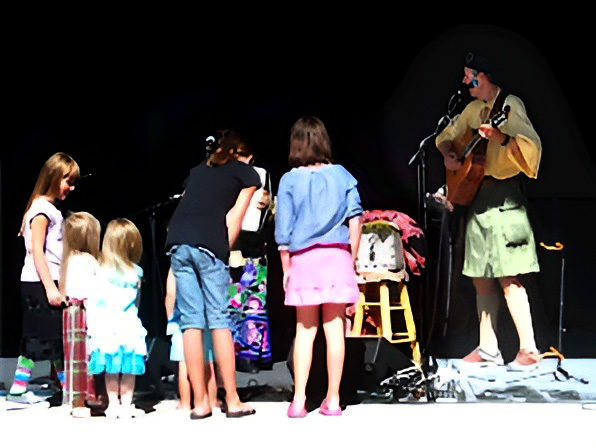 Our Celtic Music and Magic Show gets audience into the act. Here we are preparing for our big magic trick!

The Musical Magic Trick is Emerging!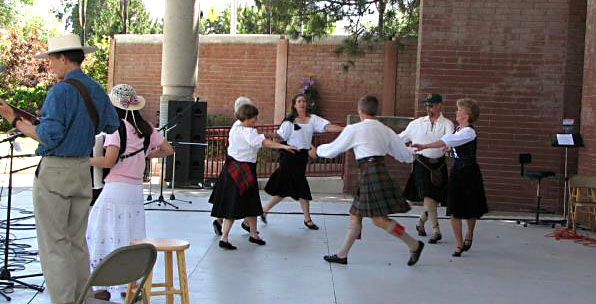 Performing with the Silver State Scottish Country Dancers. We play for contra dances, too!

Entertaining an audience of families from all over the world! We performed American Folk Music at the State of Nevada international conference.